01 april 2006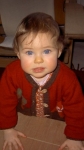 So in less than a month Maya will turn 1 and we can look back on an amazing and relaxed first year. So here is a few pictures to give everybody an idea about how she is looking on the brink of the first full year. In this picture she is leaning against the low table in the livingroom. So we are now in the phase where eyes on every finger and pooling everything in the middle is an absolute necessity.

05 marts 2006
We have added some new photos. Some new photos of Maya has been added and some photos from X-mas 2005.

28 december 2005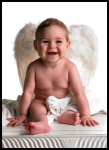 So X-mas has passed and New Year is coming up. We had a wonderful X-mas in the Winter Cottage (can't really call it a summer cottage this time of the year now can we) with both sets of grandparents and Susan's granddad Rudolph... (and yes, that is his name).
Berfore the year ends we will wish everybody a

VERY MERRY X-MAS

(slightly delayed, but hey it is our blog) and a
HAPPY NEW YEAR

15 december 2005
As you can see in the right coloumn (unless I have moved it when you read this, which is an option) it is now possible to sign up for a Newsletter. I have no idea what happens though. It is a new feature availabe, so I activated it and I suppose it sends out the comments we have added within the timeperiod if any (it is set to be sent every month). But I don't know for sure what will happen. I guess we will see within a month...
enjoy