01 april 2006
the "I will eat myself, thank you" circus has started...
We might have been a bit reluctant in really letting Maya eat her own way, and when you look at the pictures you may understand why.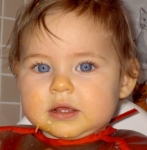 We are slowly getting there but right now the only sure thing when Maya has eaten (with her own 2 hands, 10 fingers, elbows, knees, etc.) is that there is not 1 clean spot within a 1m radius. But as long as some of it ends up the right place I suppose it is a necessary development.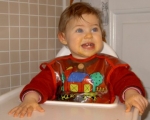 ...and if the food doesnt come fast enough there is even a face for that...