14 august 2006
Susan's Birthday (and new job)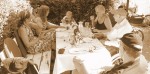 As some will know Susan's birthday was last weekend (August 5). As can be seen from the empty plates Susan's cake received an excellent reception.

...and a little celebration of Susan's new job was also in order. Anders is more than happy that she is finally out of the house again. It has cost him a little bribe here and some sweettalk there, but now the little familiy hopes that the calm will restore itself once again on the little domicile.
The laundry and the dishes has started to pile up though, but we can't have everything....