20 juli 2005
2 mth old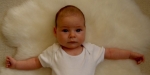 It has been a while, so the little one is growing and is approaching her 3 mth "b-day". But before that happens a picture of her while she turned 2.
Besides this I can tell that the past couple of days she has discovered speech. It might still be grry, bree etc. but that has not stopped her from trying very hard to keep a constant flow of various sounds flowing - it is clear to everybody that she takes after her mother in this. Maybe this was why God gave man two ears ?
Susan weighed her today and she now weighs app. 5,3 kg and I measured her to about 58 cm yesterday, so she is growing - maybe not at a phenomenal rate but there will be plenty of time to pick this up later.
What else is happening... ah, yes... she was given her vacinations today. A lot of screaming was anticipated but Susan said she did just fine and hardly noticed. Ah, well, plenty of time to learn her needle fear later on.