20 juli 2005
New Pictures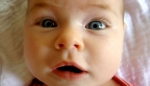 We have updated a few of the galleries with some new pictures from both the new Summer Cottage and more (newer) of Maya.
Besides these new pictures I can say that we are thoroughly enjoying our time in the summer house and most importantly of all, so is Gråmis. Wise men says that you should keep a cat inside the first week to help it adjust... what is the fun of that? If the cat is so stupid it can't find its way back home maybe it's for the better... Anyways, we still kept him inside for the first day (it was not easy since Susan constantly tried to "accidently" forget to close the door in a futile hope that Gråmis was stupid enough to get out and get lost - but no such luck. On the second day we got tired of keeping the door closed (it was more than 30 degrees celsius outside) so we figured we would test how smart he really was. We need not have bothered, he saw absolutely no reason why he should venture outside and was perfectly happy hiding under the bed. At some point I (Anders) got tired of this - again, where was the fun? - so I grabbed him and shoved him outside. 2 seconds later he had managed to cross the distance to the "safe place" under the bed. But his curiosity was certainly awaken, and within an hour he carefully and vvveerryyy slowly slipped outside. And with the safe guidance of me (and a videocamera) we managed to creep around the house. Something which under normal circumstances can be done in significantly less time than the 20 minutes it took us.
The same day he slept outside and absolutely loves it. Every evening we help him outside when we are turning in. He loves it so much that he stands right outside the door telling us every night.