15 december 2005
X-mas is near...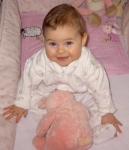 So time has passed again - it has a tendency to do that quite ignorant of our perceptions of it - ah, well... so what has happend in the litlle house on the 5th floor...

So as you can see Maya is doing quite fine and loving her "crib" - that is until she is put there for sleep. Then Hell brakes loose and she finds the world hard and unjust - she was just starting to have fun. But we are slowly getting a grip on it and apparently it helps a lot for soothing the nerves if mom or dad sings a little song. Mom knows all kinds of old and new songs - dad knows none, but that doesnt prevent him from making up his own words, sounds and more often than not melodies. For some bizarre reason she quickly closes her eyes and initiate sleeping sounds when it is dads turn to tug her in, compared to mom who gets nice da-da-di-di sounds and lots of smiles... hmm....
In the last post we told you about her new tooth - well it is still that "new". Anders is finally admitting that you can actually feel the little pointy thing now. So we are looking forward to getting bitten by this new wonderful tool (at least it seems to be the way she thinks about it). Besides this she is doing really really well and seems to be a genuine happy go lucky litlle one - must be her dads genes.
The past 2 weeks she has been coughing on and off (but when we talk to the other parents to siblings it seems that every single toddler in Denmark is coughing and sneezing at the moment, but of course it is that time of year so it is probably for the best. She has to learn sometime how it is. The first couple of nights were a bit tough since she couldnt breathe through her nose leading her to belwive that she was suffocating every two minutes. Only the safety of being placed between mom and dad seemed to help on that feeling. So we suffered some long nights with a rotating bbq chicken in the middle of our too small bed.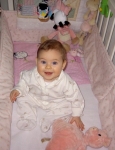 So what else is new... ah, yes... X-mas... well, not that X-mas per se is new, but perhaps the info of what we will be doing relating to this highly anticipated event will be for some. We will be going to the summerhouse (perhaps this time of year it is more appropriate to name it the wintercottage?!). We will be joined by both set of grandparents and Susan's granddad (95 years old) and we are so looking forward to celebrate Maya's first yuletide rumble. Even though she is getting increasingly aware of her surroundings and stuff within reach she still hasnt completely grasped the concept of gifts, since the most interesting item currently is the wrapping around the gift. It is going to be a cheap Xmas present for her this year.... if only her mom could find content in similar pleasures of life we would breeze through December and January. But alas she does not, so the budget will probably be tight in January...