10 november 2005
The first tooth...
The past week Maya has been more vigil than we have been use to and tuesday the reason materialised - the first tooth. A pointy little thing.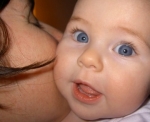 Besides the tooth she is increasingly aware of her surroundings and now regularly rolls from the backside to her frontside. But the best thing right now is leaning up against mom or dad while watching tv and playing with her toys.
This picture is from November 5 so it is perhaps a bit too early to look for the tooth - but who knows, maybe it is there...