24 juni 2006
09 juni 2006
Just a quick little update.
Things are running along just fine, but both Maya and Anders are currently recuperating from a pnemonia "attack". That put a lillte strain on the family, but fortunatly it happend while we where in the summerhouse, which is only a 2 min walk from the grandparents on Susan's side, so they helped out a lot.
Other than that the little familiy is doing good.
I will see if I can get some new pictures up one of these days.
01 april 2006
We might have been a bit reluctant in really letting Maya eat her own way, and when you look at the pictures you may understand why.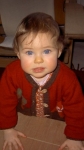 So in less than a month Maya will turn 1 and we can look back on an amazing and relaxed first year. So here is a few pictures to give everybody an idea about how she is looking on the brink of the first full year. In this picture she is leaning against the low table in the livingroom. So we are now in the phase where eyes on every finger and pooling everything in the middle is an absolute necessity.