02 juni 2005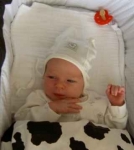 Time flies and suddenly Maya is 1 month old, this picture is from the day before, but she looked pretty much the same the day after (though the clothes had significantly more bodily fluids on them)...
31 maj 2005
Maya was born on April 30, 2005 at about 6 am (yep, I was up all night - I really hope she will be grateful later...
21 maj 2005
Ah well, as I know some of you don't understand Danish that well. Here is a little Blog in English that will be updated once in a while with news about our daily life. Probably mostly about Maya, but then again isn't that what you want to know anyways?

Enjoy,

Anders (and Sus)
Så var sundhedssygeplejersken (eller hvordan det nu staves) her i går, og det faldt sammen med at Maya for første gange ville vise at hun da også kan levere lort i springvandsmængder når hun skal vejes. Anders nåede delvist at flytte sig, sygeplejersken desværre ikke... det er nu utroligt at så små væsner kan skyde så store mængder ud på så kort tid og med en målrettethed de ellers kun udviser i sekunderne før et bryst er inden for rækkevidde.

Nå men, hun tog det heldigvis pænt og vi fik efterhåndet dæmpet Susan's pinlige latterudbrud og kunne så fortsætte med vejningen. Maya vejede 3.650 så hun får da spist det hun skal. Og er vel efterhånden også ved at blive lidt rundere i kinderne.